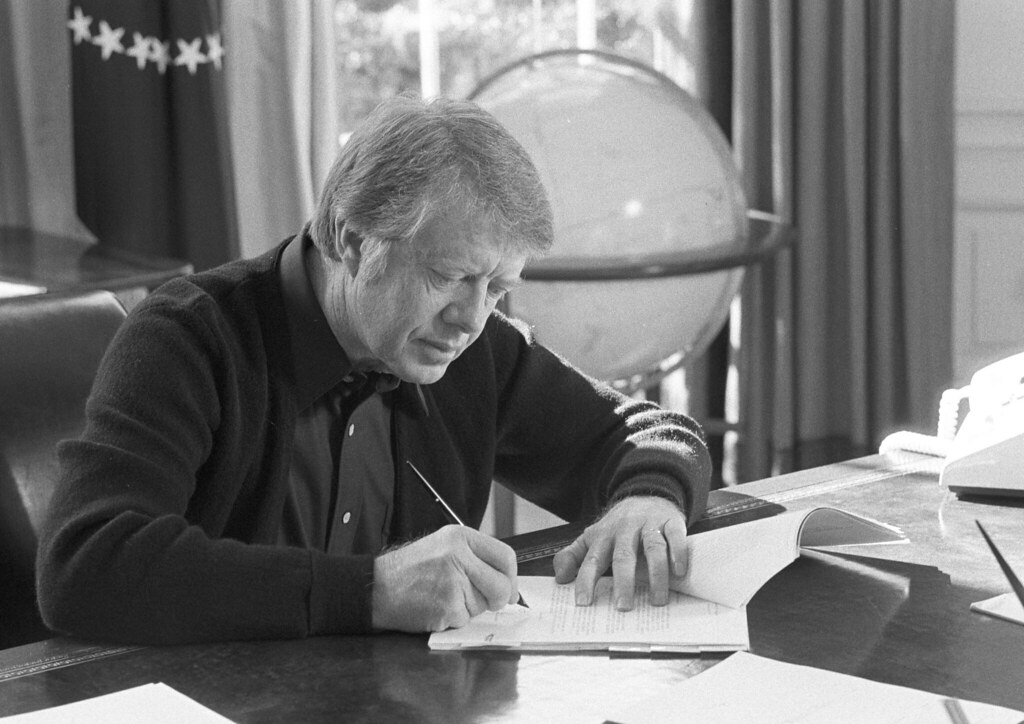 15 Remarkable Facts about Jimmy Carter: the 39th president
Jimmy Carter, the 39th president of the United States, was only president for 4 years, but has quite an incredible legacy of public service. From the United States Naval Academy to peanut farming, to Governor of Georgia, to US president, to his environmental contributions and work with Habitat for Humanity – Carter has lived an incredible life. Here are 15 remarkable facts about Jimmy Carter.
Facts about Jimmy Carter:
Jimmy Carter was the first President born in a hospital. Carter was born on October 1, 1924. Afterward, he was taken back to his house, where there was no running water or electricity. Luckily, his mother was a nurse.
Carter sparked the craft beer revolution. On October 14, 1978, Carter signed the bill H.R. 1337. This bill contained an amendment sponsored by democratic senator Alan Cranston which created an exemption from taxation of beer brewed at home for personal or family use. It lifted regulations imposed by Prohibition laws over 50 years previous. The legalization of home-brewing contributed to the explosive growth of the craft beer industry we know today.
Jimmy Carter pardoned all Vietnam draft dodgers almost immediately after taking office. On his second day in office, President Jimmy Carter pardoned, commuted or rescinded the convictions of 566 people, and pardoned over 200,000 Vietnam War draft dodgers.
Jimmy Carter has won 3 Grammy Awards. Carter has been nominated for 9 Grammys and won 3 of them. He won most recently for Best Spoken Word Album for his work on his audiobook Faith: A Journey for All. Carter is also the top Grammy-winning ex-president.
He is the oldest living former president. In March of 2019, Carter passed the previous record held by the late President George H.W. Bush. Additionally in 2012, he surpassed Herbert Hoover as the longest-retired president in U.S. history and in 2017 became the first president to live to the 40th anniversary of his inauguration.
Carter created the U.S. Department of Energy. He established the U.S. Department of Energy when he signed the Department of Energy Organization Act of 1977; forming the first new cabinet position in eleven years. He also also established the Department of Education. In October of 1979, Carter signed the Department of Education Organization Act into law, creating the United States Department of Education. This department is administered by the US Secretary of Education. It is considered the smallest Cabinet-level department with around 5000 employees.
Carter had solar panels installed on the White House. In 1979, Carter had 32 solar panels installed on the presidential mansion and called for a campaign to conserve energy and, to set an example to the American people, ordered the solar panels erected. The installation was seen largely as symbolic and Ronald Reagan had them removed in 1981.
Jimmy Carter was once attacked by a rabbit while on a boat. Characterized as a "killer rabbit attack" by the press, the incident involved a swamp rabbit that swam (menacingly) toward the President who beat back the animal with a canoe paddle.
Carter won the Nobel Peace Prize. On October 11th, 2002, Carter won the Nobel Peace Prize "for his decades of untiring effort to find peaceful solutions to international conflicts, to advance democracy and human rights, and to promote economic and social development." According to the Chairman of the Nobel Committee, Carter should have been awarded a share of the prize for having brokered a peace deal between Egypt and Israel with Anwar Sadat and Menachem Begin. However, Carter was excluded because he had not been formally nominated by the official February deadline.
Carter once filed a report of a UFO sighting. When he was Georgia's governor, Carter filed a report with the National Investigations Committee on Aerial Phenomena (NICAP). He claimed that he had seen an Unidentified Flying Object (UFO) in 1969. During the presidential campaign of 1976, Carter pledged that, if elected, he would encourage the government to make public "every piece of information" about UFOs. However once he was in office, he said releasing some of this information could pose a threat to national security.
Jimmy Carter is the only president serving in the 20th century NOT to appoint any Supreme Court Justice during his term. Carter was first president since Andrew Johnson and the fourth president overall (Andrew Johnson, William Henry Harrison, Zachary Taylor and Carter) to complete his term without making any appointments to the Supreme Court.
Carter had cancer in his brain and liver. In August of 2015, Carter was diagnosed with melanoma in his liver and brain. His early prognosis was dire and he believed he only had weeks to live. The former president was treated with new immunotherapy and less than a year later he announced that he was cancer free.
His organization has taken the lead on eradicating guinea-worm disease. The Carter Center, a not-for-profit organization he founded with his wife Rosalynn in 1982, has played a major role in eliminating guinea-worm disease. Also known as Dracunculiasis,  guinea-worm disease is crippling parasitic disease. If they are successful in eradicating the disease, it would be just the second human disease to be eradicated after smallpox. According the WHO, in 2018, a total of 28 cases were reported from three countries: Angola (1 case), Chad (17 cases) and South Sudan (10 cases).
He sold off the presidential yacht. In 1977, Carter had the USS Sequoia sold at auction. The boat had originally been bought by the United States Department of Commerce, for Prohibition patrol and decoy duties. It was decommissioned as an official Navy vessel under Roosevelt during World War II and served as the presidential yacht until Carter had it sold.
Jimmy Carter and his wife, Rosalyn Carter, have been married for over 70 years. The couple were married at the Plains Methodist Church in Georgia during the Truman administration. The couple lives in the modest house they owned before entering the White House, a Georgia ranch, worth less than $200,000, according to the Washington Post.
Also, go ahead and share some remarkable facts about Jimmy Carter that we might have missed in the comments section below.
Comments
0 comments