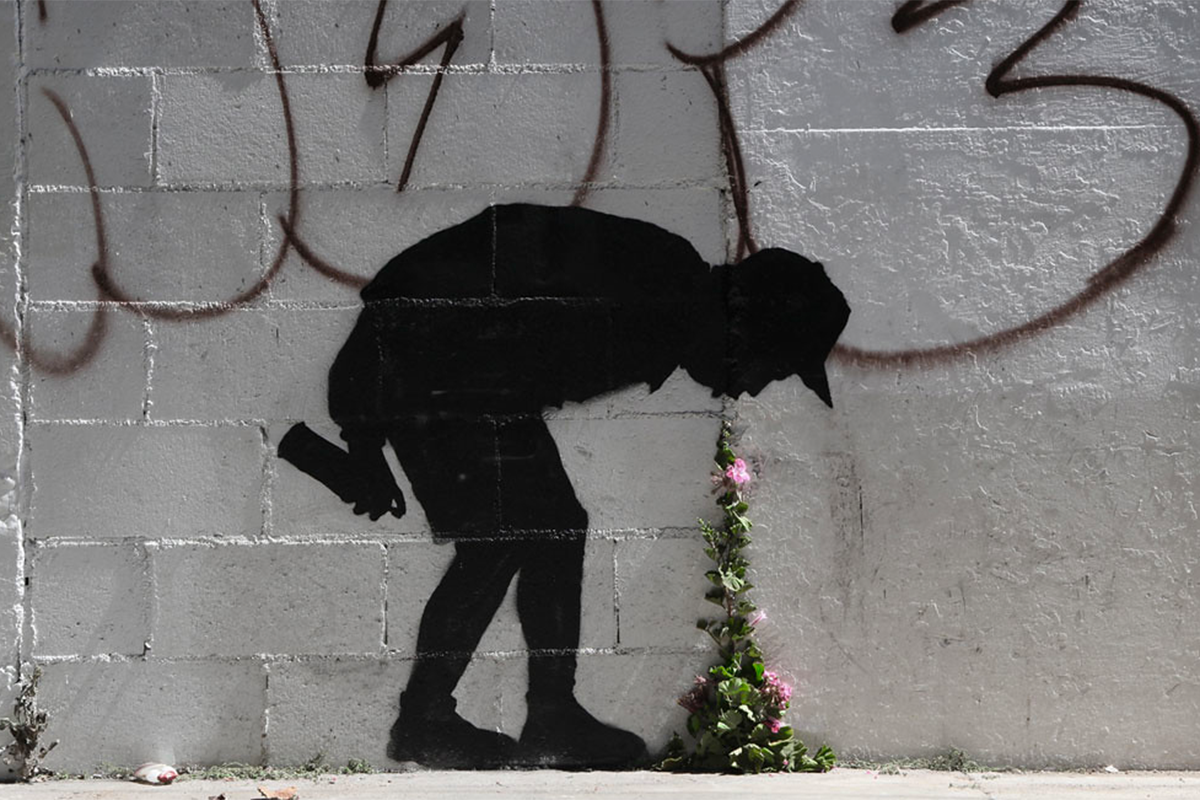 Who is Banksy?
Banksy is the pseudonym of a controversial and political street artist whose identity remains unknown. Nicknamed 'the Scarlet Pimpernel' of the art world, the English-based graffiti artist is known for his sometimes humorous and often politically themed, stenciled pieces. Here are 15 fantastical facts about Banksy.
Facts about Banksy:
He's originally from Bristol, England. Many have speculated that his real name is Robin Gunningham, a street artist from Bristol. Despite the rumors, Banksy has always denied the repeated allegations to Gunningham.
Banksy and producer Danger Mouse went to record stores across the UK, replacing Paris Hilton's debut CD with doctored versions. The "improved" album included a 40 minute instrumental song containing various inane statements Hilton had made.
Banksy was nominated for an Oscar. He was up for best documentary for his directorial debut film, 'Exit Through the Gift Shop'. Not only did he lose the award to 'Inside Job', his request to attend in disguise was denied by the Academy.
In 2010, Banksy was selected as one of Time magazine's world's 100 most influential people. He shared the list with Barack Obama, Lady Gaga, Steve Jobs and many others.
Banksy made an opening-credit sequence for the Simpsons. Banksy created the 'couch-gag' for the 2010 episode (S22E03) entitled "MoneyBart". The intro features a group of sickly workers making Simpsons merchandise at an Asian sweatshop. There are also a few "Banksy" tags on various Springfield building while the chalkboard gag features "I must not write all over the walls".
A Bristol couple who had trouble selling their house received twice the asking price when they found they had an original Banksy on their wall. The house was listed via Sotheby's auction house as a "Mural with a House Attached to It" and ended up selling for approximately $155,000.
In 2004, Banksy printed a series of spoof bank notes that featured Princess Diana's face. Queen Elizabeth was removed and replaced by Diana. Instead of "Bank of England", the note read "Banksy of England".
There is Banksy artwork in the background of the movie "Children of Men". Director Alfonso Cuarón approached Banksy about deeper artistic involvement in the film. It didn't pan out, but Cuarón did use an existing Banksy mural in the background of a scene in the film.
Banksy created "Dismaland", a dark and twisted version of Disneyland. The dystopian theme park opened in the UK in 2015. The attraction featured apathetic coworkers, terrifying theme park rides and politically charged murals along with its fair share of Banksy's street art.
Banksy dedicated a piece to his former rival King Robbo after his death in 2014. King Robbo was a Bristol street artist, who had an ongoing feud with Banksy. Robbo died after three years in a coma following a mysterious head injury. Banksy dedicated a piece to Robbo in his Dismaland exhibition.
In 2013, he set up a stand in Central Park and sold canvases for $60. The stall was unannounced to the public and was staffed by an elderly man – who was largely ignored. Most of the pieces, estimated to be worth up to $25,000 each, remained unsold by the end of the day. In 2014, two of the canvasses sold for $214,000.
Banksy designed the album cover for Blur's 7th studio album. "Think Tank" from the English rock band Blur, was stenciled by the graffiti artist. In 2007, the album's cover art sold at auction for over $90,000.
He played soccer (football) against Zapatista freedom fighters. In 2001, Banksy was a goalkeeper for a Bristol-based football club. The team toured Mexico and played a match against a group of young revolutionaries.
Banksy installed a fake cave drawing at the British Museum, and it wasn't discovered for three days. The drawing, called "Peckham Rock", was basically a chunk of concrete with a supposed prehistoric figure pushing a shopping cart. Banksy smuggled the piece into the museum in 2005 and it was only discovered after a museum staff member saw on Banksy's website that he was challenging people to find the hoax.
In 2018 Banksy shredded a framed canvas at a London auction just moments after the piece was sold for $1.4 million. Banksy's "Girl with Balloon" was reduced to shreds seconds after being sold at action at Sotheby's auction house in London. The piece passed halfway through a hidden shredder in the frame once the auction ended. Later, Banksy indicated that the shredder had malfunctioned, and the entire work was meant to have been destroyed.
Liked these facts about Banksy? Check out these 15 facts about Queen Elizabeth II.
Also, go ahead and share some facts about Banksy that we might have missed in the comments section below.
Comments
0 comments