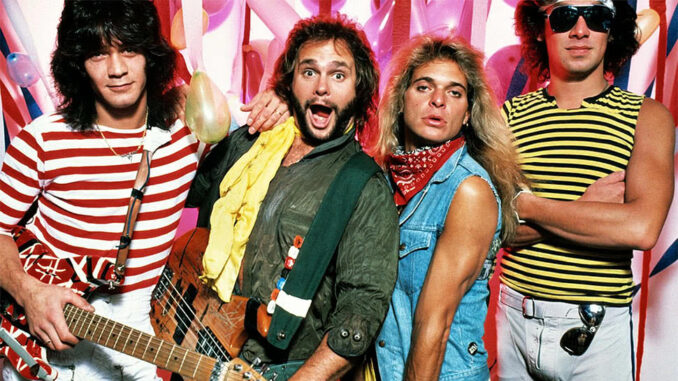 When Van Halen entered the Southern California music scene in the 1970s, rock and roll was forever changed. From playing on top of a flatbed truck at backyard parties to headlining massive festivals, America has always been their stage—and the 56 million albums sold in the US alone prove it. Here are 15 fascinating facts about Van Halen.
Facts about Van Halen:
Eddie Van Halen couldn't read sheet music. From his first piano lessons at the age of six, Eddie's penchant for musical performance was clear. He would painstakingly memorize his teacher's finger movements, developing his ear and playing until he could hear a record and replay it note for note. Eddie claimed that many years went by before anyone suspected he actually couldn't read sheet music at all.
The band is listed in the Guinness Book of World Records. In the spring of 1983, Van Halen headlined the US Festival in San Bernadino, CA. They performed on "Heavy Metal Day" for the stratospheric fee of $1.5 million. The Guinness Book of World Records created an all-new category just for them: the highest paid single appearance of a band.
Alex and Eddie Van Halen were the only consistent members. Other members have included David Lee Roth, Michael Anthony, Sammy Hagar, Gary Cherone, Mitch Malloy, Mark Stone, and Wolfgang Van Halen.
They haven't always been known as Van Halen. Starting out as The Broken Combs, they later became The Space Brothers, The Trojan Rubber Company, and then Genesis. Upon finding out the latter name was already taken, they changed their name yet again to Mammoth. Finally, in 1974, the band officially landed on Van Halen (although both Daddy Longlegs and Van Hagar were also considered).
Gene Simmons produced the band's first demo tape. After radio DJ Rodney Bingenheimer saw the band perform at Gazzari's on the Sunset Strip, he invited KISS co-lead Gene Simmons to their next show. Simmons went on to produce a Van Halen demo tape, which he later took to his management team who rejected the band.
Though now regarded as one of the all-time best guitarists, Eddie Van Halen began on the drums. When the brothers started out together in the 1960s, Eddie played the drums while Alex was on guitar. Eddie only suggested they switch instruments after he found out his older brother had been secretly playing his drum set while he was at work.
1984 went five-times platinum after only a year of release. Stylized as MCMLXXXIV, Van Halen's sixth studio album garnered national praise. It was David Lee Roth's last album with the band until 2012.
David Lee Roth left the band to make a movie. Roth's departure from Van Halen was partly so that he could take a stab at the movie business. CBS Studios reportedly gave the musician $10 million to write, direct, and star in Crazy From the Heat—a film that shared a name with Roth's debut solo album. Unfortunately, the project folded.
The album 5150 is named after a police code. Based on the California Welfare and Institutions Code, "5150" refers to a mentally disturbed person.
A College Student was expelled for writing an essay on "Hot for Teacher". In 2011, Oakland University student Joseph Corlett penned a thesis about his professor based on the racy song. When the school took action, 56-year-old Corlett sued them for $2.2 million, claiming they violated his rights to free speech.
Sammy Hagar wanted to name the band's ninth album F***. Wanting to address America's hot button issue of the time—censorship—Hagar had hopes of including a curse word in his band's upcoming album title. In the end, the f-word became an acronym for their final title: For Unlawful Carnal Knowledge.
The guitar term "brown sound" originated from Alex's drum playing. Eddie's unique guitar tone has garnered significant repute in the rock and roll world. In one interview, he said his goal was to sound like Alex's snare: warm, big, majestic, and brown. This description clicked with guitar players, and the term is widely used today.
To generate the intro to "Poundcake," Eddie held a power drill to his guitar pickup. Apparently, the scenario was a complete fluke: a maintenance worker accidentally left the tool in the studio, and upon picking it up, Eddie realized it was in the exact same key as the song. He uses that very drill every time Van Halen plays "Poundcake" live.
"Jump" was Van Halen's one and only No. 1. Their most famous song, the synth-heavy pop hit "Jump", supposedly took only one day to finish. It leapt to the top of the Billboard Hot 100, earned Van Halen a Grammy nomination, and was listed by the The Rock and Roll hall of Fame and Museum as one of the 500 songs that shaped Rock and Roll.
Eddie is listed as an inventor on three US patents. The most exciting being a supporting board which attaches to the back of a guitar, holding it parallel to the floor during a performance—the perfect position for his famous finger-tapping techniques.
Liked these facts about Van Halen? Check out these 15 facts about Top Gun.
Comments
0 comments