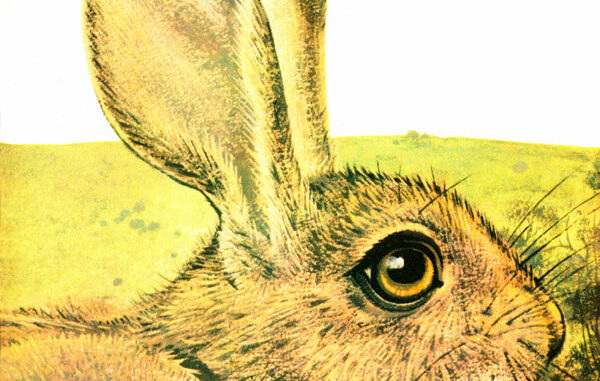 Watership Down, the classic novel by Richard Adams, follows a band of rabbits who search for a new home. Led by Hazel and his quasi-prescient rabbit brother Fiver, the rabbits survive many dangers before arriving at their new home – Watership Down. Watership Down is a hill in the north of Hampshire, England near an area where Adams was raised. Originally published in 1972, Watership Down is an enduring classic. Here are 15 facts about Watership Down.
Facts about Watership Down:
Watership Down began as a story Richard Adams told his children on a road trip. In 1966, driving from London to Stratford-upon-Avon with his family, Adams began ­telling his daughters, Juliet and Rosamond, a tale about two rabbits named Fiver and Hazel. He continued to tell the story over the next few months on morning trips to school with his daughters. Adams would construct the narrative in his mind as he lay in bed, ready to tell the girls the next morning. At the urging of his daughters, he finished the novel over the next couple years.
The book was Richard Adams' first novel. Adams went on to author nineteen books in total, but Watership Down was his first and most well known work. He was a civil servant while he was working on Watership Down.
It was rejected…a lot. Watership Down was rejected by several publishers before being accepted by small publisher Rex Collings, who took it on. Collins could not afford an advance and could only manage a print run of just 2,500 copies but it was enough to get the novel noticed. The book has since gone on to win the annual Carnegie Medal, annual Guardian Prize, and many other awards while selling over 50 million copies worldwide.
The original title was Hazel and Fiver. Rex Collings was the first to suggest calling the novel Watership Down. Adams had originally called the book Hazel and Fiver, after the protagonist brothers of the story.
There is a sequel. Tales from Watership Down was published in 1996. This collection of short stories gives more of a glimpse of life in the warren after the end of the Efrafan war and goes into more rabbit mythology. It also features more of the Lapine glossary
Richard Adams was 52 when he wrote Watership Down. Adams had a full time job as a civil servant and hadn't written anything before writing Watership Down. In a 2015 interview with The Guardian shortly before he died, Adams said: "I was 52 when I discovered I could write. I wish I'd known a bit earlier. I never thought of myself as a writer until I became one."
The characters were loosely based after WWII officers. In 1940 Adams enlisted in the Royal Army Service Corps. Many of the characters are inspired by officers who served with Adams. For example, Hazel was inspired by Adams's commanding officer, Major John Gifford. Bigwig is based on Captain Desmond "Paddy" Kavanagh, whom Adams described in his autobiography as a "sensationalist [who was] afraid of nothing". Kavanagh died in action during the battle of Arnhem in September 1944, but Bigwig managed to survive his harrowing encounters.
Adams created a new language. The Lapine language was invented by Adams for the novel. Within the book, only the rabbits speak Lapine and they communicate with other animals in a language known as "Hedgerow."
Watership Down has been adapted to the screen three times. It was first adapted as an animated film in 1978. In 1979 the film received a nomination for the Hugo Award for Best Dramatic Presentation. It was later adapted as an animated TV series, broadcast on CITV in the UK and on YTV in Canada. Most recently it was aired as a four-part mini-series on Netflix and BBC.
It's not really for kids. Even though the book began as a story for his young daughters, the themes and action in the novel (and in the adapted shows) can be a bit much to take. Adams once noted, "I've always said that Watership Down is not a book for children. I say: it's a book, and anyone who wants to read it can read it." When asked by a young fan why the book was so scary, Adams responded, "Good stories ought to be exciting and if they are exciting they are inevitably scary in parts."
John Hurt voiced both Hazel and General Woundwort in the adaptations. The late English actor John Hurt voiced Hazel in the 1978 movie of Watership Down and then later her voiced General Woundwort (Hazel's enemy) in the TV series adaptation.
The book is incredibly well researched. Adams' knowledge of the habits of actual rabbits was quite impressive. To better understand the rabbits, Adams used British naturalist Ronald Lockley's 1964 book, 'The Private Life of the Rabbit'. Adams and Lockley actually became friends and took a trip to Antarctica together. The two later collaborated on a book about the experience.
Art Garfunkel has a number one hit because of Watership Down. The song "Bright Eyes" was written for the soundtrack of the 1978 movie. It was later used as the theme song for the television series. "Bright Eyes" was written by Mike Batt and performed by Art Garfunkel and was the biggest-selling single of 1979 in the UK, remaining at number one for six weeks. Richard Adams is reported to have hated the song.
There is a Dungeons and Dragons-like game of Watership Down. Watership Down also inspired a role-playing game in the vein of Dungeons and Dragons called Bunnies & Burrows. In the game, players pretend to be "intelligent rabbits" trying to compete for food, outsmart humans and avoid predators. The game was published by Fantasy Games Unlimited in 1976 with a second edition coming in 1982.
The book may have accurately predicted the future of Sandleford Warren. The rabbits' original home in the book was bulldozed to make way for a new housing estate. The real-life Sandleford Common is designated for a housing development of 2,000 homes, called Sandleford Park.
Got any interesting facts about Watership Down to share? Post them below.
Comments
0 comments